About FolderMagic
Tired of all your folders looking the same? Bored with those tired-looking Windows folders stretching endlessly on your desktop all looking the same? Now you can customize your folders the way you want by changing the color or the icon used to display your folders on your desktop and in your Windows Explorer!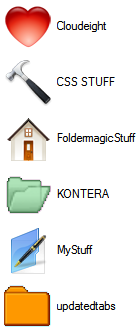 FolderMagic can magically customize any folder... you can choose a different icon to represent the folders you want to stand out from the rest. Take a look to your left. You'll see examples of folders we've chosen new icons for - see how they stand out? And they stand out when you browse with Windows Explorer too! (See the Windows Explorer view below)
Additional icon packs available or add your own! The possibilities are endless!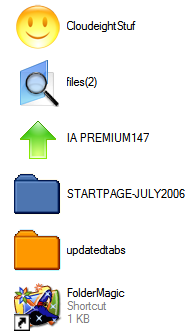 Folder Magic Is Easy To Use! Note: You cannot chose color in 10 as this is a built in feature of Windows. You can use icons though!
Open FolderMagic

Pick the icon you want to use

Click OK and you're done!


For complete instructions, please see our FolderMagic help page. Or, better yet, you can just download and install FolderMagic then play around with it. We'll bet within minutes you'll be colorizing folders and changing folder icons with FolderMagic. No instructions necessary! It's that easy!

FolderMagic Comes With Dozens Of Professional Stylized Icons, extra icon packs and you can add your own too!.
Home | About | Help | FAQ | Download | Order | Support | Icon Packs | Contact Us
Cloudeight Direct Remote Computer Care
FolderMagic works with in all versions of Windows XP, Windows Vista and Windows 7 and 8 and 10). You cannot change folder color on Windows 10, but you can change icons. All content is copyright ©2006-2016 Cloudeight Internet LLC. FolderMagic™ is a trademark of Cloudeight Internet LLC.